B. F. Saul Insurance's Annual
Paddle for a Purpose
Pickleball Charity Event
We're dedicated to nurturing a sense of friendly competition while supporting charitable causes that resonate with our values and mission within our community.
Since we opened our doors more than 125 years ago, we've continually demonstrated a strong commitment to supporting the arts, charitable and community organizations, and government agencies. By combining financial support with purposeful work, we help these organizations thrive.
Our annual Paddle for a Purpose charity pickleball event is rooted in our unwavering commitment to giving back to the community. We strongly believe that businesses have a responsibility to create positive social impact, and pickleball–a sport that champions inclusivity and teamwork–embodies our core values of unity and community building.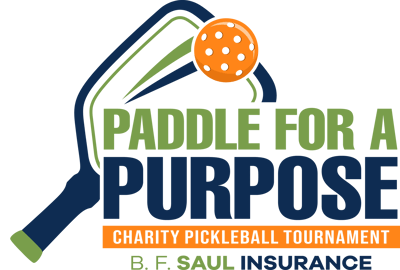 Inaugural Paddle for a Purpose Charity Tournament Raises Nearly $13,000 for Catholic Charities of DC's SHARE Food Network
The 2023 inaugural Paddle for a Purpose charity pickleball tournament raised nearly $13,000 for the SHARE Food Network, a program of Catholic Charities of DC that provides food assistance to families in need.